Overview of Tack
Western European Tack from 900-1600 c.e.
By Madonna Contessa Ilaria Veltri degli Ansari

This page is very long, please give it time to load
Bridles and Reins
Bits
Saddles
Girths
Stirrups
Bibliography

Bridles and Reins
Bridles often look surprisingly modern, but then there really aren't that many ways to put strips of leather around a horse's head, and make it operate properly. Notice also that the people are often using double reins. Many of the curb bits from period are set up with a ring at the mouthpiece so they can be used as a pelham.

a. Roman with X across face. Bronze head, Castellamare Stabia, Italy
b. Bridle detail with nice rosette, from the Westminster Psalter, by Matthew of Paris, c. 1250
c. A very wide bridle from Froissart's Chronicles



d. An example of double rein from Froissart's Chronicles
e. Detail from Durer's The Four Horsemen of the Apocalypse, 1498, note snaffle bit



f. Detail from King Rene's Book of Love, note double reins
g. Interesting bridle details from Froissarts Chronicles
h. Detail of chain reins, Miniature from an Address by the town of Prato to
Robert of Anjou, Italy, c.1335-1340, British Museum



i. Fancy and Simple bridles from the Journey of the Maji
j. Bridle over the Bards, Minnesanger Manuscript



k. Some very fancy bridles and reins from Tres Riches Heures
Bits
Bits come in many shapes and sizes, with and without curb. I recommend that if you have a bit that your horse likes and works well in, don't change it. The chances are that you can find one very similar to it.


l. Assyrian animal motif bit. Plain straight bar mouthpiece snaffle.
(way too early, but very cool)
m. A Western Asian, full cheek, jointed mouthpiece, snaffle bit, very early.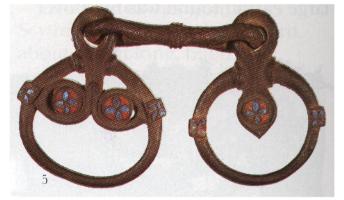 n. A Celtic bronze snaffle with enamel, Roman Period
o. Iron snaffle bit used in 5thc. Poland



p. A couple medieval snaffles
q. A view of a bit in the mouth, from The Meeting of the Queen of Sheba and King Solomon,
by Piero della Francesca, Church of San Francesco, Arezzo.
r. 16thc. curb bit with high port, keys and rollers. Attributed to Henry VIII.
s. 16thc. pelham of German origin
Saddles
Evolution of saddles:
(Not always in this order in history)
A. Nothing (bareback)
B. Blanket
C. Stuffed Pad
D. Rigid tree

To the best of my knowledge:
The ancient Greeks used A and B.
The Romans used all four.
Medieval used mostly D, but there are exceptions where they used any or all of the other three.
Renaissance folk used mostly D, with the same types of exceptions as for Medievals.
There are plenty of exceptions to these as all rules. For example certain horse races were always run bareback.
Saddles can be held to the horse with pretty much any girth arrangement. There are pictures of single, double and triple girth arrangements. The girths attach to the saddle in various places or run over the seat.

a. Detail of Young horsemen at the Panathenaic games, by Phidias, Parthenon frieze, Athens
b. Detail from a funeral procession, 7thc. bce tomb relief from Xanthus in Lycia, now in British Museum



c. Sythian hobbling his horse. Chertomlyk Vase, 4th c. bce
d. Saddle of leather and felt from Pazyryk burial, Altai 5th c.bce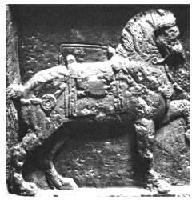 e. Detail from the Stele of Silius, showing a four horned Roman Saddle
f. Samnite warrior in battle dress, Pompeii
g. Sketch of a reconstructed 11thc. Polish saddle



h. Late fifteenth c. saddle possibly from the Hungarian Dragon Order, Metropolitan Museum of Art.
i. Saddle detail from St. George and the Dragon, Roger Van der Weyden, c.1432,
note saddle is quite similar to the "Hungarian Dragon Order" saddle



j. Detail of a Jousting saddle from 1466, note flat profile.
k. Henry V's saddle top view, Westminster Abbey



l. Saddle detail from St. George and the Dragon, Church of San Zeno Maggiore,14thc? Verona
2or 3 girths wraparound saddle
m. Detail of a saddle(full) from a Joust. Mid 15th c.
n. Detail of a saddle(empty) from a Joust. Mid. 15th c.



o. Maximillian style war saddle, about 1520.
p. A war saddle probably made by Jorg Seusenhofer of Innsbruck, c.1549
q. German Gestech joust saddle, late 15thc.



r. 16thc. Spanish war saddle, Royal Armor Museum, Madrid, Spain
s. Saddle and accouterments, made for King Christian IV of Denmark, 1634 from Royal Mews, England



t. A gentleman's saddle of about 1640, part of the Barnsby collection at Walsall, England. Note similarity to modern Austrailian saddles
u. Detail from Certamen equestre, etching, c.1672 by Goerge Christoph Eimmart, showing details of Polish Winged Hussar Trapping. Sometimes the wings were attached to the saddle, sometimes to the armor backplate.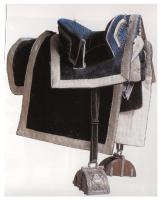 v. Modern Russian saddle in the Royal Mews of England.
Note the similarity between this one and the reconstructed Polish one.
w. A modern Spanish saddle in the Royal Mews, England.
These haven't really changed since 1600, and are still available to purchase. Stirrups are Moorish in style.
Girths
Girths are necessary to hold the saddle on the horse. Most pictures have only one showing, however, there are a number with two or more.

x. Saddle detail showing two girths from the Winchester Bible c.1170, note big buckles.
y. Detail of horse harnessed to a cart, but showing three girths.
Stirrups
Stirrups are thought to have been invented on the Steppes. The first recorded incidence is in China in about 400 c.e., and in Europe in about 700 c.e. Toe loops are thought to be earlier. If any of you reading this have any solid primary documentation on really early stirrups or pictures, let me know.

a. Korean figurine from the 4th century c.e.
b. one of a pair of stirrups found in an 8th c. grave in Holiare Slovakia (in situ)
c. Stirrup 11thc. Poland
d. Iron Stirrup 11th or 12 thc. central Europe
e. Sketches of stirrups found in London. Museum of London
This page is still under construction, stay tuned for further stuff.
BIBLIOGRAPHY
The Age of Chivalry
A volume in the story of man library
Ed. Kenneth M. Setton
National Geographic Society 1969

Arms and Armour of the Medieval Knight
David Edge and John Miles Paddock
Crescent Books
New York, 1988

Art in Poland 1572-1764
Land of the Winged Hussars
Art Services International
Alexandria, VA 1999

Bit by Bit
Dianna R. Tuke
J.A.Allen and Co. Ltd.
London, 1991

Bits
Louis Taylor
Wilshire Book Co.
N. Hollywood, CA 1966

Bits and Bitting Manual
William G. Langdon, Jr.
Langdon Enterprises
Colbert, WA 1989

Cavalry
The history of mounted warfare
John Ellis
G.P.Putnam's Sons
New York, 1978

Discovering Harness and Saddlery
G.Tylden, Major
Shire Publications, Ltd.
Aylesbury, Bucks, UK 1979

A History of Horsemanship
Charles Chenevix-Tench
Doubleday & Co., Inc.
Garden City, NY 1970

EQUUS
The Horse in the Roman World
Ann Hyland
Yale University Press,
New Haven and London, 1990

A History of Horsemanship
Charles Chenevix-Trench
Doubleday and Co. Inc.
Garden City, NY, 1970

The Horse in Medieval England
Herbert James Hewitt
J.A.Allen and Co. Ltd.
London, 1983

Horse Power
Juliet Clutton-Brock
Harvard University Press
Cambridge, MA, 1992

Horse Tack
The complete equipment guide
for riding and driving
Ed. Julie Richardson
William Morrow and Co. Inc., London 1981

Horses and Horsemanship Through the Ages
Luigi Gianoli
Crown Publishers
1969

The Howell Book of Saddlery and Tack
Ed. Elwyn Hartley-Edwards
Howell Book House Inc.
New York, 1981

The Life, History and Magic of the Horse.
Donald Braider
Madison Square Press
Grosset & Dunlap, Publishers
New York, 1973

Know All About Tack
George Dulaney
The Farnam Horse Library
Omaha, NB, 1974

Making and Repairing Western Saddles
Dave Jones
Arco Publishing, Inc.
New York, 1982

Man and Horse in History
Matthew J. Kust
Plutarch Press
Alexandria, VA 1983

Man and the Horse,
A. Mackay-Smith, J.R. Druesedow
T. Ryder
Simon and Schuster, New York, 1984

The Medieval Horse and its Equipment
c. 1150-c.1450
ed. John Clark
Museum of London, London, 1995

Medieval Pageant
Bryan Holme
Thames and Hudson
London, 1987

The Medieval Warhorse
R.H.C.Davis
Thames and Husdson
London, 1989

The Noble Horse
Werner Schmalenbach
J.A.Allen and Co.
London, 1962

The Noble Horse
Monique and Hans D. Dossenbach
Crescent Books
New York, 1994

The Pictorial Arts of the West 800-1200
C.R. Dodwell
Yale University Press
New Haven & London, 1993

Princely Feasts and Festivals
Bryan Holme
Thames and Hudson
London, 1988

The Reign of Chivalry
Richard Barber
St. Martin's Press
New York 1980

The Rider's Handbook
A step-by-step course
Sally Gordon
Chartwell Books, Inc.
Secaucus, New Jersey 1979

The Roman Cavalry
Karen R. Dixon and Pat Southern
Barnes and Noble Books
New York, 1992

The Royal Horse of Europe
Sylvia Loch
J.A. Allen & Co. Ltd., London, 1986

Saddles
Russel H. Beatie
University of Oklahoma Press
Norman & London, 1981

Saddlery
E.Hartley Edwards
J.A.Allen and Co. Ltd.
London, 1987

They Rode Into Europe
Miklos Jankovich
Charles Srcribner's Sons
New York 1971

To Handmake a Saddle
J.H.L.Shields
J.A.Allen and Co.
London, 1983